January 16th, 2013
December 6th, 2012
*goes off to wash hands*
*looks in the mirror*
…I look like a crackhead…
September 25th, 2012
My friend James Skypes me for my birthday while I'm having lunch.
James: So, got anything planned today?
Me: *blah blah, plans with friends* Oh and my Uncle Ben sent me a birthday card with a gift card in it!! I was talking with him on Skype an hour or two ago, and I watched the Fed Ex guy walk up to the door. So I once I brought it back in, I opened it up and was all
James: *cackles with laughter* Please don't ever change, Jo. Please.
Me: I don't plan on it!
And we kept laughing over that for the next five minutes.
June 27th, 2012
That moment when you realize one of your favorite actors, Rene Auberjonois, who played THIS guy:
and voiced THIS guy: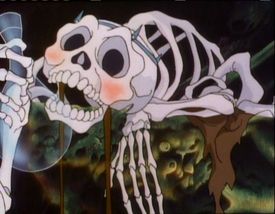 (among scores of other stuff)
ALSO did the speaking AND singing voice of THIS guy:
First off, let me state that my knowledge of Auberjonois' work is fairly extensive - he has a very unique face, and a very unique voice that I can always pick out simply by hearing it (much like Jim Cummings).
EXCEPT THIS ONE TIME.
Secondly, I will unabashedly admit to cackling like a moron at the discovery of his performance as Louis the Chef (The Little Mermaid). Mostly out of sheer hilarity, mind you, but part of it was glee at his mark in Disney history…
February 11th, 2012
February 5th, 2012
Favorite meme.
Because of the lulz, I have ceased to can.