June 25th, 2012
So I walked up to Subway with my mum and the kid (a 7-year-old) she's tutoring. It was sprinkling a bit outside, no problem. My dad met us there, having driven the truck, and we all had a nice lunch.
We got ready to leave. It's raining a bit harder now, and whereas a bit of rain never hurt anyone (plus we had umbrellas), my dad was nice enough to tote us all home. Only problem was that the truck seats 3, and the kid has to sit in a car seat because she's a scrawny little waif.
I volunteer to sit in the back of the truck; I've done so plenty of times in the past, and have even been on many long road trips while doing so as well (in the middle of summer, roasting because of the weather, I'll tell those later).
So NBD right?
Tag-along tutor kid starts bugging my mum about wanting to ride in the back ("I'm small enough, I'll fit! We can put my car seat back there! What's it like? Can I do it?" etc.)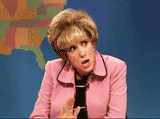 …
Well of course the kid can't sit back there, so we more or less ignore the barrage of annoyance and pile into the truck. I begin my climb into the back and notice the kid is standing back there…watching me with an expectant expression.
What made it worse was that the kid stayed there…watching…even as my dad closed the canopy hatch and I settled in. The kid finally left to get in the truck when my mum called.
Somewhat weirded out by now, I shrugged it off and settled with my back to the window (so I can't see my parents or the kid in the front seat), but my curiosity got the better of me, and I allowed myself a glance behind. Sure enough, the kid is staring at me through the back window of the truck cab with that same expression of awe on their face.
In the 2-second span I spent glancing at this oddity, this thought process flitted through my mind: "…kid, I'm not doing anything. Nothing exciting is going to happen - I'm just riding in the back of the truck, and it's a 2 minute drive back to the house. This will prove to you how boring it actually is. You can stop watching me now.
Seriously, not a big—"
"…deal."
I kept my back to them the entire way home.
Moral of the story: it cracks me up when kids automatically assume that, because you're doing something out of the ordinary by their standpoint, it's automatically the coolest thing in the whole world.
Because you know the moment that kid had climbed back there, a minute or so into the ride, they would've said "This is boring."